Features and Benefits
thumb_up_alt
Convenience
Designed to make life in the food industry much easier whilst still complying with food safety requirements
verified_user
Safe Food
Ability to demonstrate that your food business is serving safe food, easily and systematically, at anytime.
build
Created for you
Developed by people who have many years in the food and IT industry, FRANK has been designed from your point of view
assignment
Recording
The FRANK system can record the processes of receipt, storage, defrost, preparation/made on site, cooking, cooling, reheating, hot hold, serve and even the dishwasher rinse temperature.
fact_check
Reports
FRANK can also send weekly reports of all the records you have entered in the past week and can manage the allergens in the food at your business too.
FRANK is going to save you time and worry.
event_note
Convenience
FRANK saves staff in the kitchen time as they are able to enter all the food safety information they need to in the one place, without having to have multiple pieces of paper to manage and file. FRANK can be contextualised to your needs, meaning that your fridges/freezers, food suppliers and food handlers are the ones that appear on the screen – this creates a better and more fluid user experience.
fingerprint
Information at your finger tips
The records on the FRANK system are available in real time, so when a food handler enters data (such as a cooking temperature for food), this can be viewed by management straight away, meaning that a manager in charge of several outlets can see the food safety records for all these sites from one location – in fact any location with a WiFi connection. This saves management much time in identifying areas and sites that are not recording food safety information.
how_to_reg
Meet Compliance Requirements
Corrective actions for any issue/temperature that is not in compliance with the food laws are identified straight away, so that the food handler can action this to ensure the continued safety of the food on site. Having the records on the FRANK system also means that they are all legible and easy to understand, records that cannot be read quickly or at all are not much use to show that the food at the business has been produced safely.
view_carousel
Get Organised
The moment you use FRANK, you know your information is systematically recorded and stored safely in the cloud for easy access later.
access_time
Save Time
The moment you use FRANK, you know you won't have to worry about wasting time finding information with information at your finger tips.
attach_money
Save Money
The moment you use FRANK, it will remind you of any food handling safety requirements in order to minimise food waste and ensure continued food safety .
Features
coronavirus
Allergen Management
The management of allergens within a food business is very important, some customers may be allergic to some foods and will need accurate information about your menu in order to make an informed menu decision. Businesses selling food must know of any allergens that are in the food they sell so they can inform their customers.
The FRANK system can be used to identify all the allergens that are in a particular menu item, so that staff can easily access the information for customers, with FRANK your business will also be able to set up an ipad for your customers with your menu (including pictures of the menu items), so that customers can easily access allergen and ingredient information themselves.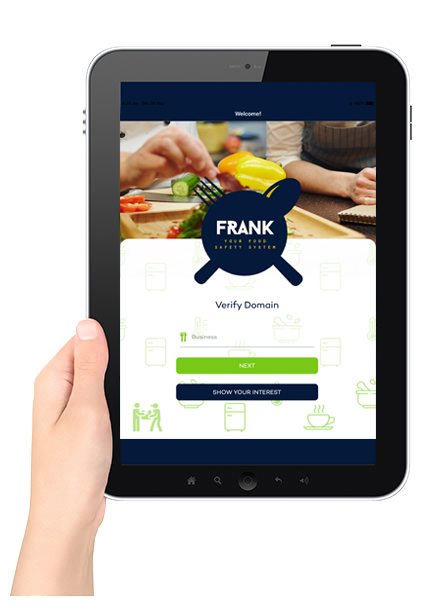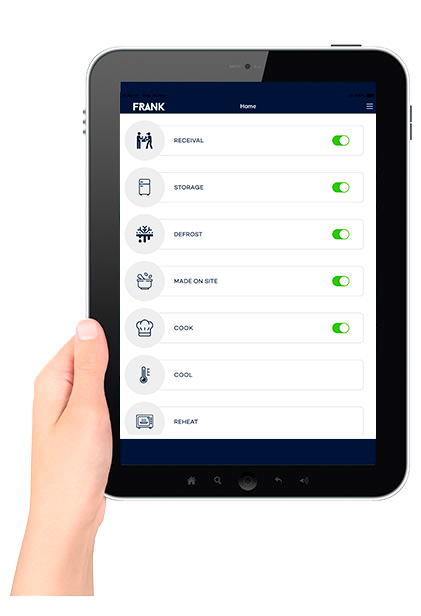 source
Available records
The records on the FRANK system can be made available to any regulatory authority, such as the local council if required (this is at the discretion of the user). Local councils are increasingly requesting food safety records from food businesses to show compliance with local food laws. This may be a big advantage if your business had to prove quickly that it was producing safe food, having food safety records available in a timely manner will greatly improve your businesses ability to show that your food is safe and your business is doing the right thing.
Having the records available to a third party can also facilitate easier regulatory audits as checking food safety records can take food inspectors/auditors a considerable amount of time, this may shorten any time they are on site which may also reduce the cost of these audits.
alarm_on
Timely reminders
The FRANK system has a built-in reminder when cooling food so that staff are reminded to take a temperature of the food before the critical 2-hour mark and again before the further 4-hour mark, meaning that food is cooled safely. In Australia the food laws strictly state that potentially hazardous food (such as cooked chicken, rice, casserole etc.) must be cooled within a certain time/temperature parameter, or else it must be discarded.
eco
Good for the planet
Using the FRANK system as opposed to a paper based system will reduce the use of paper and ink by the business, this will greatly reduce the consumption of paper – which in turn will reduce the need to cut down more trees and also reduce the amount of contaminated water the re-enters the ecosystem.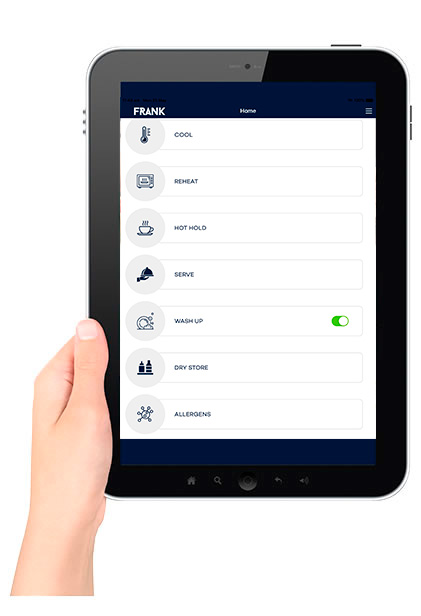 Contact us
We can arrange a free demonstration of the FRANK food safety app to show you how it can help your business achieve a greater level of food safety that is easy for staff to use and is cost effective for your business