How to Install
Go to the app store and type into the search bar "frank food safety", look for the FRANK logo and download the app. Once downloaded, tap on the "Show Interest" button and complete the fields, this will come through to us and we will send back your log in details for you to log in and get started.
Download App


From App store
FRANK Set Up
Setting up the FRANK system for your business is easy and should not take long. Once you are on the admin screen, you will see the processes from receival to wash up, you may also see food made on site and the allergens feature if you have chosen the allergen feature for your business. Tap on a process, such as "Receival" and start by using the tabs at the top of the screen and completing the fields, the reports tab is to view the data once it has been entered so at the start there will be no information in this area.
The other processes can be set up in a similar way, if you get stuck, we can help you – just email us at info@frankfoodsafety.com there are also helpful "how to" videos on Youtube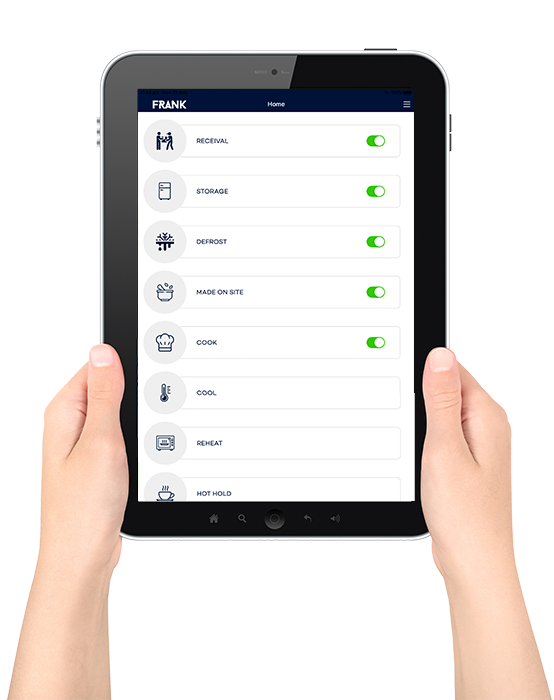 toggle_on
on/off
You will also notice some "on/off" buttons on the right hand side of the screen, these are so the admin can turn certain functions on or off, if you leave a function off this means that when a food handler logs into the system they will not be able to use that function.
menu
Manage Food Handler
At the top right of the screen there is a burger menu (3 horizontal lines), if you tap this you will see a drop down box with "Manage Food Handler" (this is where you enter the food handler details), "Switch to Food Handler" (use this button to quickly move from admin screen to food handler screen), "Cooked Item Tracking Report" (tap this button to track meals that have been cooked, this will follow a meal through all processes including cooling and reheating) and "Logout" to quit the app when you have finished.
help
Help
The FRANK food safety system is very easy and intuitive to use and we want you to get it working in your business as soon as possible and with as little fuss as needed, however if you need help with set up or with questions regarding FRANK, we are here to help and can be contacted at:
mail info@frankfoodsafety.com
Contact us
We can arrange a free demonstration of the FRANK food safety app to show you how it can help your business achieve a greater level of food safety that is easy for staff to use and is cost effective for your business